Join me for 2 weeks (plus 4 days of prep) of delicious whole foods designed to naturally detox your body. I provide over 60 delicious recipes – there is no deprivation during this program! Join me and a group of motivated fun people while we all do this together!
We Begin the Detox as a Group on 5/29/18
Imagine….
Kissing belly bloat goodbye and saying hello to a flatter tummy
Boosting your natural energy supply without a coffee or sugar
Slipping back into your smaller jeans and owning your confidence
Shedding that exhausted-by-3 PM feeling and hitting the RESET button on your health
Ditching the toxins that cause excess weight and dropping the pounds without dieting.
There is a solution and it does not involve dieting, pills, powders or any of that mayhem. The best part? It will only take 14 days, plus 4 days of prep.
Did you know:
Your body is probably carrying around roughly 5-10 pounds of toxicity (a.k.a inflammation)? This means that the headaches, bloated belly, cellulite, and digestive upset can be a result of all the toxicity we encounter daily.   All too often, we eat "healthy" foods that are actually wreaking havoc on our systems and creating more toxins.
Luckily, there's a simple solution:
A 14-day whole foods detox designed to cleanse and pamper your body from the inside out.
I know what you're thinking. "Detox, no way, I've heard so many horror stories about detoxes."
Maybe you have. But this detox is different.
Here's why…
Your body is exposed to thousands of toxins on a daily basis…
And though your body is designed to naturally detox itself—it cannot possibly cleanse itself of the horrendous number of toxins that are present in our modern world!
It needs your support, and if it doesn't get your support—it will become congested, stagnant and overloaded. Maybe you've already reached that point.
That's why you need a detox. A detox helps release your body from the toxins it is subjected to during your day-to-day interactions with metals, chemicals found in cleaning products, food, drinks, and more.
That's why, during this program, we're ditching the fasting, pills, and extreme measures the diet industry pushes on us and focusing instead on what really matters—improving your digestion and eating whole, seasonal foods that are designed to support your body's natural processes of detoxification and cleansing.
No deprivation.
No fad diets.
No starvation.
No miracle cures.
No nonsense.
Just a real plan to tackle your health and bring your body back into balance.
And yes, it is also delicious!

Here's what past participants had to say:
"I lost 6 pounds during the detox! I loved the recipes, especially the Chopped Salad and the Creamy Onion soup; the smoothie breakfasts were delicious and so filling. It felt great to be putting such wholesome healthy food in my body!   Marcie was such a great coach – she was there every step of the way to help us through the process. She is very knowledgeable and genuinely cares about your health. I have done a lot of cleanses before that just were not sustainable – I loved that this was based on good whole foods and more geared toward sustainable lifestyle changes."
-Paula E.
"I just want to say that Marcie's detox did wonders for me. I have been drinking Coca-Cola for so many years I can't count them as well as my whole diet consisted of nothing but sugar.  I haven't had a coca -cola in three weeks and my skin is better, my inflammation is gone, and although losing weight was not a huge goal for me I've lost five pounds. I feel much more energetic than I have in years.  Thank you Marcie for transforming my life and the way I eat! You're terrific."
-Susan M. Coffey RN
"I expected the program to be very arduous and I thought I would feel all the time hungry, deprived and overworked in the kitchen . NONE OF THAT IS HAPPENING. I'm completely happy with what I'm eating, I do not feel hungry between meals, I can easily make delicious meals for Don (who is eating better despite himself) and I and it isn't really that hard to tell myself to make good choices when in those "out of the house" situations. My health benefits so far: I have much more energy and near zero cravings and I lost 4.4 lbs in 2 weeks! And it has been clearly proven to me that all of this is likely mostly linked to getting away from the sugar highs and lows."
– Susan C.
Sometimes you think you are making healthy choices when you're actually potentially harming your health…
Here's the thing…this program will guide you, step by step, through eliminating the foods that are potentially butting in on your health and happiness.
This step-by-step approach to detoxing is designed to help you finally figure out which foods fuel you—and which ones don't—safely and quickly, WITHOUT feeling like you're missing out on your favorite foods.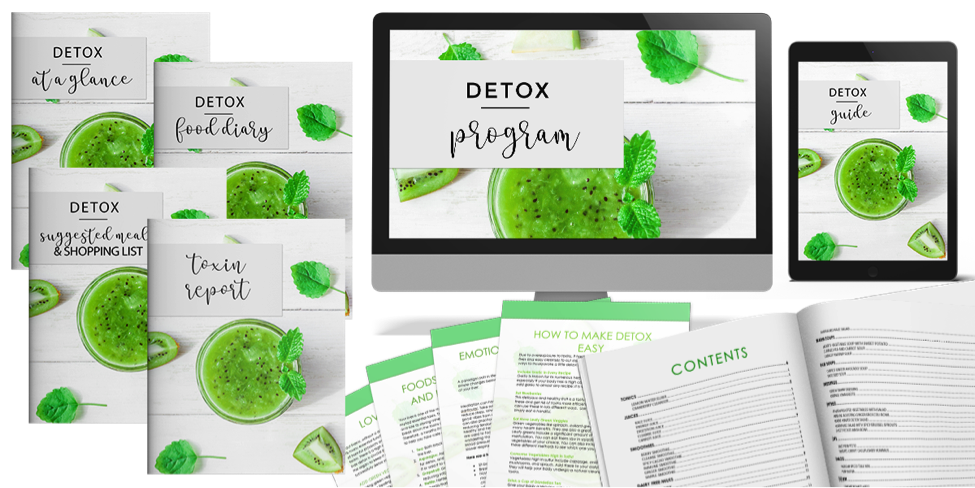 What's included in this Detox?
Spring Detox Guide:A step-by-step manual that's chock-full of everything you need to know to detox in a safe and natural way.
Recipe Guide: Packed with over 60 scrumptious recipes that will improve digestion, decrease inflammation, and keep you feeling satisfied.
Daily Email Support: Just like it sounds, I'll be in your inbox daily to provide support and accountability.
Private Group Support – You'll have complete access to my expert support and unique outlook within the private group. You can ask me anything you want! I'm here to support you every step of the way on your journey. You'll be surrounded by an empowered group of people all doing this together!
14-Day Guide with Suggested Meals: This will help you stay on track and take the guesswork out of meals during your detox. You can also make up your own meals from the food list and wide variety of recipes.
14-Days At a Glance: A day-by-day protocol for your entire detox, with easy-to-follow recipes that make this journey easy to follow.
Shopping Lists: If you want to follow the suggested meals, then I can make trips to the supermarket super simple, which makes preparing and cooking for your detox a breeze.
Food Diary: This tool will help you keep track of how you're feeling physically, mentally and emotionally throughout the program.
Additional Handouts: Educational tips and approaches to a healthier lifestyle.
What makes this program different?
This program is not a diet, so there's no one telling you exactly what to eat, no calorie counting, and no hunger. Instead, this program is all about being in tune with and listening to your body.
Second, this detox is based on the elimination diet, so you're working with a proven, three-prong approach used by functional medicine doctors and nutrition experts around the globe.
Third, there are no pills, powders, or pre-made shakes as part of this program. That means you don't have to buy any fancy supplements to make it work. You can find everything you need at your local grocery or health food store (or on Amazon!).
Here are some of the results you can expect (Results may vary by individual)
You may lose 4-7 pounds.
You may feel lighter, experience an inner glow that others notice immediately, and have tons of natural energy (minus the crash that accompanies your daily cup of coffee).
You can actually lose those sugar cravings …it's not that hard!
You can improve your sleep patterns, e.g. no tossing and turning all night long!
You can lose that belly bloat – and feel comfortable in your jeans again!
You should feel much better in your own skin, enjoying more confidence, before the summer madness starts!
And that's just some of the benefits my clients have experienced!
If you're ready to feel like a renewed version of yourself, sign up now:
Have you tried diets and programs that did not give you the results you were hoping for?
Are you looking for a program that will uncover hidden food sensitivities and allergies that are contributing to weight gain?
Do you crave unhealthy foods that are sabotaging your weight loss efforts?
Are you looking for more energy and fewer trips to the coffee pot or the vending machine at 3 pm?
Get the results you crave from one simple program.
Join the Spring Detox – Reset with Marcie!
I know this program is for you if…
➟You're ready to ditch the diet and figure out what works for you
➟You're ready to say farewell to the muffin top that just won't budge
➟You want more energy so you can enjoy your life more without feeling exhausted
➟You want to look and feel younger without Botox and caffeine
➟You want to jumpstart your metabolism, and enjoy a night out on the town in that little black dress
➟You want to balance your blood sugar and kick cravings to the curb
➟You're busy and want quick, easy tools and recipes that work without causing overwhelm
Sound like you?
Frequently Asked Questions
WILL I BE STARVING?
Not at all! There are over 60 recipes for breakfast, lunch and dinner, and there is room for snacks in between. There is also a list of detox-friendly foods you can choose from to create your own meals. Every meal is delicious and designed to nourish your body from the inside out. This program is not about starvation or deprivation, and we are not counting calories or dwelling on carbs. You will feel satisfied with every bite. If you do get hungry, there are extra snack recipes included or plenty of foods to choose from!
CAN I STILL WORK OUT DURING THE PROGRAM?
Please work out during the program! If you feel tired or have low energy, exercising restores both strength and energy. During this program, you will be eating protein and drinking plenty of liquids, so if you're already exercising, there's no reason to stop! It is important to remember that whenever you change the foods you eat, your body changes as well. Please consult with your doctor if you have any specific concerns about your health.
WHAT SORT OF PROTEINS WILL I BE EATING?
You will have the option to choose between various plant or animal-based proteins, which will be listed out for you in the Detox Guide and include in some of the recipes and suggested meals. There are so many clean-eating protein sources to choose from, you won't get bored with your options!
AM I ONLY GOING TO BE DRINKING JUICES AND SMOOTHIES?
No way! While there are some juices and smoothies for you to choose from, you will also be eating salads, soups, and even desserts that are delicious and nutritious and will eliminate toxins from your body in a safe and natural way.
DO I HAVE TO TAKE SUPPLEMENTS, PILLS AND POWDERS?
Not in this program!! The only supplement I recommend that everyone take on a daily basis is a probiotic, and you'll learn why in this program.
CAN I DO THIS IF I'M NURSING OR PREGNANT?
If you are nursing, I suggest that you add at least 4-6 ounces of protein at lunch and dinner, boost your morning smoothie with a scoop of hemp or pea protein, and eat snacks between meals. Make sure you are consuming extra fat and drinking enough liquids. This program does not include any detox-provoking agents, but again, please consult with your doctor before starting this program if you have any health concerns.
WILL I FEEL WEAK DURING THE PROGRAM?
You are going to feel so healthy and energized it will amaze you! In the beginning, your body may go through a "healing phase" to re-balance and let go of toxicity. It is important to listen to your body through this program, and I will be here to support you with that. I will guide you step by step through exactly what can be done to reduce any unwanted symptoms that may appear. This program is completely flexible because we're here to figure out what works for YOU!
I DON'T EAT GLUTEN OR DAIRY. HOW CAN THIS PROGRAM HELP ME?
Many people who eat very clean already still have room to empty out the pipes with an elimination diet and take their healthy habits to the next level. Changing up the foods we eat gives our digestion time to rest and reset, which can be helpful for anyone regardless of their current eating habits.
WHAT SIDE EFFECTS MIGHT I EXPERIENCE?
Some people go through this program and feel nothing but energized, while others may feel tired or light-headed as their bodies eliminate and let go of unnecessary toxins. The experience will differ from one person to the next, but this program is designed with that in mind. You'll have access to all the tools you need to keep any unwanted symptoms at bay.
I HAVE A KNOWN MEDICAL CONDITION. IS THIS STILL SAFE FOR ME?
While this program is based on eating only whole foods, it is still advised that you consult your physician before beginning this or any program.
Note: It is important to consult your physician before beginning any new eating or exercise program. This is a clean-eating program designed to teach you the difference between foods that inflame you and foods that fuel you. These statements have not been evaluated by the Food and Drug Administration.
This is not intended to diagnose, treat, cure, or prevent any disease.
Here's what some more past participants had to say:
"I have totally enjoyed this group and how everyone shared their foods, experiences, good and bad! It really kept me motivated and I was able to lose 4.8 pounds in the 2 weeks! I'm definitely going to incorporate many of the recipes, foods, and techniques into my days going forward. There were a few things I wanted to try that I didn't get a chance to (like the creamy onion soup), so those are top priority for the next few weeks. It's been very enjoyable, thank you Marcie!"
– Stephanie S.
"Thanks for a great experience! You are an excellent group leader- your knowledge and support for the group as a whole, as well as each individual is fantastic!"
-Lori V. RD, RN
"When I started this challenge, my tummy was hard with inflammation and my back and knees were killing me. Just 3 weeks later, inflammation was gone and my tummy felt soft again. Back and knee pain so much better. Now it's a matter of reducing the remaining weight I'm carrying around. Can't wait to continue the journey"
– Lety M.
About Marcie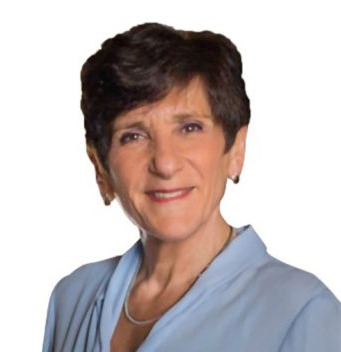 For over 25 years, Marcie's career in executive management and consulting included C-level positions in Information Technology for private companies, as well as State Government. After losing 60 pounds and turning her own health around in her mid to late fifties, she realized she needed to ditch her corporate career and follow her true passion – helping others lose weight, get healthy, conquer food intolerances and sensitivities and get the support they need to manage and beat Type 2 Diabetes. As a Certified Integrative Nutrition Health Coach, Marcie offers clients long-term, sustainable and fully supported help finding their own way to good nutrition, great health and amazing whole-body-mind wellbeing.