Marcie was so wonderful to work with and help guide us through this program. My biggest challenge at the beginning of the detox was understanding how food impacted my overall health and how to feel more in control of what I ate. I learned to love the taste of more nutritious food and be aware of how food impacted my overall health and wellbeing. I would most definitely recommend this program to anyone that wants to gain more knowledge about nutrition, overall health/wellness, and to help practice new ways of eating with support. Losing 10lb also didn't hurt 🙂
– Allison F.
Any behavior change is difficult, so having someone's support is essential. Marcie has a way of figuring out exactly how to help you so that it feels natural to take care of yourself. I was amazed how quickly I achieved results in just a few weeks of following the very doable plan Marcie and I co-created.
– Suzandeise P. 
Marcie Desmond has truly changed my life.   I have spent my life dieting.   I have been in the rut of losing and gaining the same 20 pounds.   Marcie has taught me it is all about what you eat.   Her guidance in healthy eating has greatly impacted my life.
Her "Smoothie Challenge" amazed me. I use to say "I need to chew my food!" Now I have smoothies almost daily. She even introduced us to hot smoothies to enjoy in the cold weather.   The "Reset Challenge" after the holidays has keep me from gaining the traditional 3 pounds during this time of year.   Reset was simple and easy to follow. I am also down two pounds since the Holiday's started!
After spending 6 months following Marcie's Clean Eating, I have lost 15 pounds and feel great.   Clean eating is so simple.   I can go to dinner, have folks in and not see my scale climb. I am also far more adventurous with my foods. I love trying new recipes!
-Joanne C.
Thanks to Marcie, I look better, feel better and am a much happier person!
I have lost 17.6 pounds! Finding Marcie has been AMAZING!
I have learned to eat clean, organic and manage my stalls in weight loss without giving up. The eating plans and recipes have been key to my losses and I will continue to carry on with everything I have learned. The morning metabolism drink is one of my favorites. I have even come to love the smoothies. Thank you Marcie for teaching me so much about eating healthy! I never knew I had it in me to eat clean. Your programs have shown me so much about myself that I didn't know.
-Julie W.
Thanks for a great experience! You are an excellent group leader- your knowledge and support for the group as a whole, as well as each individual is fantastic!"
-Lori V. RD, RN
I have totally enjoyed this group and how everyone shared their foods, experiences, good and bad! It really kept me motivated and I was able to lose 4.8 pounds in the 2 weeks!   I'm definitely going to incorporate many of the recipes, foods, and techniques into my days going forward. There were a few things I wanted to try that I didn't get a chance to (like the creamy onion soup), so those are top priority for the next few weeks. It's been very enjoyable, thank you Marcie!
– Stephanie S.
When I started this challenge, my tummy was hard with inflammation and my back and knees were killing me. Just
3 weeks later
, inflammation was gone and my  tummy felt soft again. Back and knee pain so much better. Now it's a matter of reducing the remaining weight I'm carrying around. Can't wait to continue the journey
-Lety M.
Marcie is an excellent health coach who I highly recommend. She is passionate about helping people improve their lives through better eating habits. Marcie's approach to each person she works with is personalized. She asks about challenges and goals, ensures she understands your unique situation, and guides you every step of the way. Marcie is always very encouraging – she makes you feel like you can (and will!) succeed. Her knowledge isn't just about foods and their benefits or harmful effects; she offers a wealth of strategies and ideas for applying good nutrition to your everyday life. I've personally learned a ton about nutrition and how to incorporate it into a healthy lifestyle from Marcie.
-Martha L.
Everything I learned from you in our 6 week program has paid off as I finally have found my dietary niche.
I am no longer afraid of some fat in my diet. STILL VEGAN 
🙂
I am even not scared of using a small amount of healthy oil in a recipe. As you suggested.
My body also responds favorable to higher protein, once again, as you taught.
I am now releasing the unhealthy fat around my abdomen and have my energy back.
This post is to thank you from the bottom of my lil' vegan heart for all the help, knowledge and encouragement you gave me.
LADIES: Listen to this woman. She knows her stuff and can help you achieve your ideals!!!
-Darlene D.
The best parts about the program were having Marcie available to bounce questions off, the fact that the recipe guides were so concise and full of excellent information, the interaction between other group members, and coaching calls were a good means of focusing on specifics.
-Anonymous from survey
Marcie brilliantly balances her extensive knowledge with sincere compassion and unwavering support. Through the months that we've worked together, I have been impressed with Marcie's uncanny ability to adjust her coaching to best support me: even in ways that I didn't even know I needed support! I cannot imagine making this kind of progress without Marcie's energy, experience and kindness. Any client willing to do the work and lucky enough to work with Marcie can expect tremendous results.
-Ana J.
Marcie's the best health coach EVER! I've lost 8 pounds this month with her, eating every meal AND snacks, and I've learned so much about sneaky, insidious sugar in my otherwise very healthy diet. She really goes above and beyond in her coaching. She loves what she does and she was born to do it. I cannot say enough positive words about her. She's very knowledgeable, understanding, and practical. And she's come a long way, herself, so no judging and a great sense of humor about it all.
-Talitha V.
I lost 6 pounds during the detox! I loved the recipes, especially the Chopped Salad and the Creamy Onion soup; the smoothie breakfasts were delicious and so filling. It felt great to be putting such wholesome healthy food in my body!   Marcie was such a great health coach – she was there every step of the way to help me through the process. She is very knowledgeable and genuinely cares about your health. I have done a lot of cleanses before that just were not sustainable – I loved that this was based on good whole foods and more geared toward sustainable lifestyle changes.
-Paula E.
I just want to say that Marcie's detox/cleanse did wonders for me. I have been drinking Coca-Cola for so many years I can't count them as well as my whole diet consisted of nothing but sugar.  I haven't had a coca -cola in three weeks and my skin is better, my inflammation is gone, and although losing weight was not a huge goal for me I've lost five pounds. I feel much more energetic than I have in years.  Thank you Marcie for transforming my life and the way I eat! You're terrific.
-Susan M. Coffey RN
I expected the program to be very arduous and I thought I would feel all the time hungry, deprived and overworked in the kitchen. NONE OF THAT IS HAPPENING. I'm completely happy with what I'm eating, I do not feel hungry between meals, I can easily make delicious meals for Don (who is eating better despite himself) and it isn't really that hard to tell myself to make good choices when in those "out of the house" situations. My health benefits so far: I have much more energy and near zero cravings and I lost 4.4 lbs in 2 weeks! And it has been clearly proven to me that all of this is likely mostly linked to getting away from the sugar highs and lows.
– Susan C.
It was a great experience. I enjoyed being on the journey with a group and having the coaching to keep me focused.   I feel good and will try to keep this awareness going forward.
– Anonymous from survey
Raw carrot and sweet potato soup. Yummmm! Great recipe, Marcie. And so quick and easy!
– Renee F.
Marcie is a leader in the truest sense of the word. She has walked the walk and is able to give clear and concise suggestions and directions to keep a person on track in the hunt for their goal. There is no phony rah-rah, and her thoughts are not filled with ridiculous platitudes. When you hear Marcie's "stuff" it is always thought provoking and right on point. This is a person who genuinely cares. When I have all but given up on myself she has helped pull me back and kept me going.
-Reggie F.
Just wanted to say that you are one AWESOME person, you are so motivating and kind and make people feel like you really care about what they are saying. Thank you!!! 🙂
-Carol
Marcie, I just wanted to let you know that I am looking forward to doing another challenge with you!! You have been so encouraging and supportive as I have travelled this path. YOU ROCK!!!
-Valerie A.
I lost a lot of weight last year, then Thanksgiving rolled around and I fell off the wagon and until January couldn't get back on. I had heard about this online weight loss challenge and thought I would try it. By chance, I happened to sign up for a challenge with Marcie. This lady knows her stuff!!! She was so able to motivate me and give me nutritional advice (and always suggesting I contact my doctor as needed) to help me get back ON the wagon and STAY on the wagon. I have just signed up for another challenge with Marcie, that comes with her 2-week Detox and you can believe I WILL be following the plan!! I trust Marcie, I really do. And, even if she wanted me to eat KALE (bleackkkkk) I would do it! Thank you Marcie for all of your advice and your motivational words!
-Denise W.
My dog is almost 1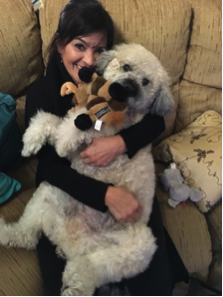 2 years old but he's been walking normal until about 3 weeks ago. He started slowing down and almost dragging his hind legs. I couldn't believe how he was fine one night and the next morning he was having trouble walking! I've been trying to figure out what happened, I know he's older and arthritis can flare up but it was so sudden.
The only thing I could think of was a change in kibble that I made right around a month ago. I checked out the ingredients and it has tomato in it! Thanks to Marcie, i know it's inflammatory for me, so i just wondered if maybe it did the same for him. Well guess what, after 2 days of not eating the kibble he's almost back to normal 😃. Just thought I'd share.
–Lety M.